DXpeditions
---
VK9DLX/VK9LM - 2014
---
TX5K - 2013
part of Cordell Expeditions
---
ZL8X - 2010
---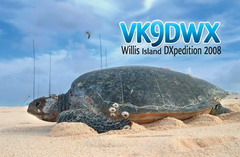 VK9DWX - 2008
---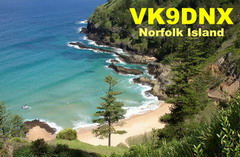 VK9DNX - 2007
---
VK9DNX - Guestbook
Georg - DK7LX (24 December 2006)
Alles Gute und viel Erfolg! Georg DK7LX
---
Akihito Taga - JR0AMD (24 December 2006)
Hello! I'm Akihito Taga.Callsign is JR0AMD, I hope to see you on WARC bands! Your my first VK9(Norfolk Is.) on 17m & 12m. 73! and Good DX!
---
Bill Horner - VK4FW (31 December 2006)
I was lucky to operate from VI9NI in 2006 for a month. Norfolk is a beautiful place that I am sure u will all like. I wish u well and trust that propagation is very kind for u.
---
Dan - S50U (03 January 2007)
Thanks for another great dxpedition from you guys I'm sure it will be full of success. Enjoy journey there with pile-ups & cu low-bands. HNY 2007 de Dan, S50U
---
Andi Hahn - DL7ZZ (04 January 2007)
Great information in the first days of 2007! So I hope for WAZ #39 on 160m :-)!! I cross the fingers for a good trip! I hope we'll see us in the PileUp and for another meeting in the first days of june in M-R! /3s and gddx de Andi
---
PETR - OK1DOT (05 January 2007)
DEAR FRIENDS ! Best trip, good CONDX and see you again on low band. 73 Petr OK1DOT
---
Sante - IZ6CST (10 January 2007)
Wishes for a big dxpedition. 73' de Sante
---
Víctor - LU3JVO (18 January 2007)
Hope you have a nice dxpedition!! Please remember to ask for SA stations on 80 & 40M specially CW at 05.00z +/-! Thank you very much. Good luck
---
Mike Tessmer - K9NW (19 January 2007)
Good luck and have fun! Norfolk is a great place. 73, Mike K9NW (VK9NW - Nov 2004)
---
Phil - VK2BAA (19 January 2007)
I operated from VI9NI last year - I wish you well. Your callsign caught my attention as it is not the correct prefix for Norfolk Island VK9N - should your call be VK9NDX? It might be best to check with the authorities prior to getting to the island as it sounds like a typing error by the Government....?
---
1
2
3
4
5
6
7
8
9
10
Next >>
[48]