DXpeditions
---
VK9DLX/VK9LM - 2014
---
TX5K - 2013
part of Cordell Expeditions
---
ZL8X - 2010
---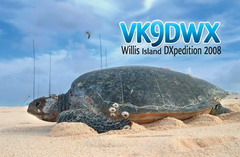 VK9DWX - 2008
---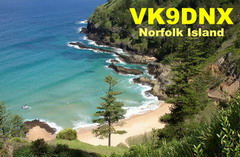 VK9DNX - 2007
---
VK9DNX - Guestbook
Drago - S59A (15 February 2007)
Catch you on 30 and 80,waiting for you on 160...enjoy ! CU in Friedrichshafen. Great operators ! ! !
---
Joerg - OE4VIE (15 February 2007)
Big signals into EU, and great operators, thanks for 80,40,30m QSOs so far. Have a good time on Norfolk and a save trip home....73 gl Jo OE4VIE
---
Vacek - SP8LNE (15 February 2007)
Beautiful part of the world. I think, I will never be there - so pitty. Great thanks for QSO on 30m with vertical ant and 100W in the first day of expedition. Wish to hear you soon on other bands. Great job boys.Thank you. Greetings from Poland.
---
Klaus - DL1DTL (15 February 2007)
Danke für >>New One<< on 30m trotz 100W und Windom auf meiner Seite, super Signal heute morgen. awdh auf 17/15 Klaus
---
Andy - SP5SA (15 February 2007)
Hallo Friends, nice signal and great operators, all the best guys
---
Carsten - DL6LAU (15 February 2007)
MM (Moin Männer), lasst es Euch gut gehen und trinkt ein Bier für mich mit (wenn denn genug Nachschub da ist), hoffe natürlich auch auf ein 160m QSO. Gruß Carsten, DL6LAU
---
Bogdan Rzedzicki - SP7DRV (15 February 2007)
Very fine signals and operation. Is your log on line downloaded already? I can not find my call sign in your log. 73 SP7DRV
---
Mogens - OZ4ACK (15 February 2007)
Hi keep up the good work ! i havent worked you yet,but you,re booming in on 20m cw with s 9 on my groundplane here in Copenhagen vy 73
---
Pavel - OK1DRQ (15 February 2007)
Danke fuer QSOs 30 und 40 mtrs. Ich hoffe awdh in 80 und 160 mtrs 73 and GL Pavel OK1DRQ
---
Laco - OK1AD (15 February 2007)
Congrats Friends. Super strong signals in Europe and super operators. All the best for all in DXpedition. 73!
---
[1]
<< Back
1
2
3
4
5
6
7
8
9
10
Next >>
[48]