DXpeditions
---
VK9DLX/VK9LM - 2014
---
TX5K - 2013
part of Cordell Expeditions
---
ZL8X - 2010
---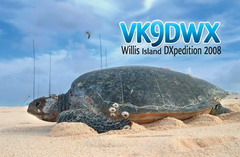 VK9DWX - 2008
---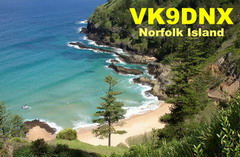 VK9DNX - 2007
---
VK9DWX - Guestbook
Sam Willis (24 February 2008)
Where is Willis Island? It's nice to know that I have a island name after me. Hope all is well. Tomorrow it will 75 in Conroe,TX. Nice day for a sun tan. Willis
---
David (03 March 2008)
I trust you have adequate medical support as part of your team.. One of the last ham visits to Willis went awry, with a medical evac costing the VK taxpayer around $40k.. Maybe some of those sensitivities have been ameliorated over time.. All the best. VK2CZ / VK8AA
---
Antonello, iz7doo (14 March 2008)
Hope to be able to make only one qso with you to say: &quot,thanks for new one&quot, !!
Have a nice and safe trip.
73's Antonello, iz7doo.
---
Jerry (15 March 2008)
Looking forward to a contact. Used
to live in Melbourne, Australia. I
have almost all VK call areas after
47 years of Dxing but need Willis
Island.

Your Norfolk Island expedition was
well-done. I was fortunate to contact
you.

I'll see you in the pile-ups.

Thank you for going!


73's


Jerry
W7KPL
Scottsdale, Arizona
---
Hans (21 March 2008)
Looking forward to try to work you on
12,17,30 and 160 meters for a new one. Last time HA7-boy activatet Willis I was myself on IOTA-NEW Nukumanu Island.So I heard Willis 599 on ALL bands,,,hi
Hope for 4 contacts.Sure it will be done with Mar at your side.
73 de sm6cvx Hans/P29VCX,P29NI,P29VLR
---
Luc PY8AZT (09 April 2008)
Hi Folks

I just published on the frontpage of our Portal (http://www.dxbrasil.net) your DXp info and we are very excited for comming up news about this great project.

Keep the Good Work!
---
John (29 May 2008)
Good luck to the whole team! Will be listening for you from the &quot,black hole&quot, of the US Midwest for an all-time new one. Best wishes!
73,
John W9ILY
---
Alex - OZ7AM (20 June 2008)
Hello guys, whishing you good luck with the dx-pedition, and I look forward to contact you on as many bands as possible, and to get an all time new DXCC for the collection!

73 de OZ7AM
---
Clay - K7HC (10 July 2008)
Best wishes for a great trip! Will look forward to chasing you on the WARC bands. Be safe and thanks for all your effort. . .
---
Carlo (25 July 2008)
Best wishes for the trip and the activity.Tnx very much for giving everybody an opportunity to improve the DXCC score. For me will be a NEW 1 !!!
Ciao de IZ8GNR Carlo
---
[1]
<< Back
1
2
3
4
5
6
7
8
9
10
Next >>
[59]